80 Years of Bomb Disposal - Equipment
Search and Location: Equipment designed to search for devices (eg: command wires for an IED) or location of a buried bomb prior to excavation.
De-armers and disruptors: Designed to defeat more complex and better protected IEDs and UXO some with a recoilless feature for minimal collateral damage. These are set up close to a device to disrupt the firing circuit using a slug of water without detonating its explosive content. Some models can also be used as de-armers, designed to fire a range of steel slugs into land service to remove the fuze rapidly and stopping initiation.
Freeze Neutralising Kit: An autonomous cryogenic equipment delivering an RSP by applying freezing techniques in both EOD and IEDD applications.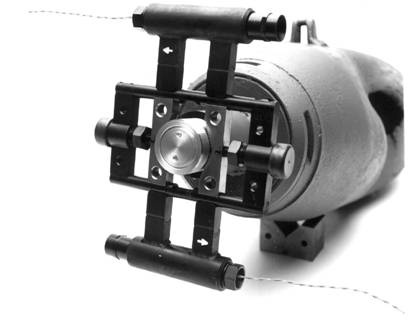 Rocket wrenches: Used for the rapid and remote removal of fuzes from UXO, they are manually clamped to a fuze and then use electrically initiated .50 calibre power cartridges to provide a rotating action unscrewing fuzes off unexploded bombs and effecting an RSP.
X Ray: Portable X Ray and Developing capability to enable an operator to locate components in suspect devices for both threat confirmation and to assist in locating the power supply for subsequent disruption.